Clinton's pneumonia 'feeds narrative that she is secretive'
Comments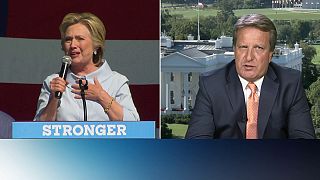 Donald Trump has pledged to release details of his own health record after Hillary Clinton's malaise at the weekend and the news that she had been diagnosed with pneumonia.
Clinton's pneumonia feeds into the narrative that she is secretive

Euronews Washington correspondent
The US Republican presidential candidate wished his Democratic rival well in an interview on American television, agreeing that the health of both contenders was an election issue.
Clinton cancelled a planned visit to California to rest, as the campaign entered its final weeks.
Our Washington correspondent Stefan Grobe put the matter in perspective for Euronews.
Alasdair Sandford, Euronews, Lyon:
The state of Clinton's health had been dismissed as a conservative conspiracy theory. Presumably that's all completely changed now?
Stefan Grobe, Washington correspondent:
I think yes, the Clinton campaign will now have to face the issue head on, it will certainly dominate the news cycle for the next few days and they have to address it in a meaningful and transparent way. There has already been a disruption of her campaign schedule. Now that will further fuel the narrative put forward by her detractors that Clinton is unstable and unfit to be president, and these detractors will point to the incident in New York as proof that 'where there is smoke, there is a fire as well'.
Alasdair Sandford:
The video alone showing Clinton almost collapsing at the 9/11 event is striking. How damaging could that be, regardless of whatever assurances are given about her health?
Stefan Grobe:
That is too early to tell right now. I mean look, let's put it in perspective: she had pneumonia, she was under antibiotics, and she was standing in the heat for 90 minutes without water. Now Clinton is not criticised for having felt dizzy, what sparked criticism was the fact that the public was informed about Clinton's pneumonia two days after being diagnosed with that illness, and only because of the incident in New York. So that feeds into the narrative that Clinton is secretive and not transparent. In exactly two weeks from now there will be the first TV debate between Clinton and Donald Trump, and it's the outcome of that TV debate that will shape the remainder of the race, more than anything else.
Alasdair Sandford:
What about Donald Trump? What has he been saying about this and where does this leave him?
Stefan Grobe:
Well Trump remained silent for almost a day which is pretty unusual. He then came out earlier today wishing Hillary Clinton well. His campaign thinks that this is a very delicate moment for them too, and they can't be overly gleeful. I mean after all, Trump is older than Clinton, he does not exercise and he loves junk food, right? So Trump's problem is that he has not released any medical records for himself, other than a four-paragraph letter from his physician who basically said that Trump is the healthiest candidate ever in US history. Today (Monday) Trump said that he had a physical (examination) last week and that he's going to release the major finding of that physical very soon. The question of course is: why only now and not earlier? So this entire health issue is certainly an issue for both campaigns.