Clinton campaign regroups over health scare
Comments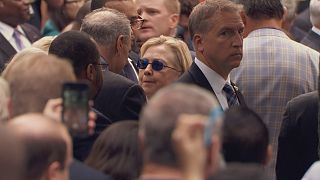 Hillary Clinton's presidential campaign team has admitted mishandling the weekend's health scare concerning the Democratic candidate.
Critics want to know why following her apparent collapse as she was helped into a car, it had not been revealed that she had some days before been diagnosed with pneumonia.
With her health now emerging as a campaign issue there have been promises to release new medical records to reassure voters of her fitness to stand for the presidency.
Economist and Nobel prize winner Joseph Stiglitz, who was interviewed for the Euronews programme 'Global Conversation', said he had no such concerns.
"Clearly, the Trump campaign is going to try to make the most of it. [But] what is remarkable is somebody at her age, working, campaigning, as hard as she was campaigning… It's physically gruelling and I think she has already proven that she has the kind of physical strength that, quite honestly, most people could not have survived."
While the health of 68-year-old Clinton may worry some, for others it is the lack of transparency. Her team initially said she had only been suffering from effects of the high temperatures in New York.
Antibiotics can take care of pneumonia. What's the cure for an unhealthy penchant for privacy that repeatedly creates unnecessary problems?

— David Axelrod (@davidaxelrod) September 12, 2016
You can draw a straight line from Clinton emails ——> Clinton Foundation ——> Clinton health. https://t.co/uuU3FcEemO

— Chris Cillizza (@TheFix) September 12, 2016
It is a topic which has got voters talking.
"I don't think because you have pneumonia is going to make a difference whether a person can trust you or not. I mean pneumonia, anyone can come down with pneumonia. A person should take a look at how hard she's been campaigning and the little bit of rest she's been getting," said one New Yorker.
Clinton is now said to be resting at her home in New York. She has cancelled a two-day trip to California that included fundraisers and a speech on the economy. However her doctors say she should be able to resume normal campaigning after a few days.
Like anyone who's ever been home sick from work, I'm just anxious to get back out there. See you on the trail soon. -H

— Hillary Clinton (@HillaryClinton) September 12, 2016