Bomb injures dozens in Turkey a day after crackdown on Kurdish mayors
Comments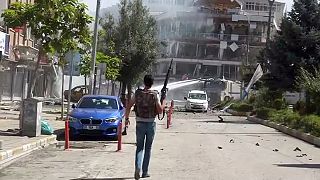 Scores of people have been injured in a car bomb attack on local government offices in the southeastern Turkish city of Van. It comes a day after 24 Kurdish mayors were removed from office in a crackdown mainly across the region and Turkish authorities have blamed the blast on Kurdish militants.
The explosion caused damage over a wide area in a central district of a city that has been targeted many times by the the PKK, a separatist group branded a terrorist organisation by Ankara and the EU.
The Turkish president indicated the mayor's alleged support for the PKK was the reason for their dismissal.
"Being elected a mayor does not mean you can do anything you want," he told reporters. "You cannot support terrorist organisations as a mayor, you don't have such an authority."
The crackdown provoked violent protest in a number of towns and cities. Erdogan said last week that Turkey was undertaking its biggest ever campaign against the PKK and that removing officials seen as supporting the movement would be a key part of the drive.