Austrian presidential poll postponed over faulty glue
Comments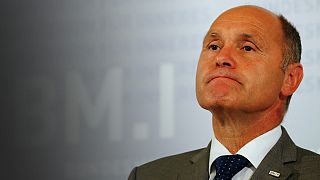 Austria has put back the re-run of its presidential election because of a technical problem with ballot papers.
The vote, which had been scheduled for October 2, will now take place on December 4.
It has quite literally come unstuck with some postal vote papers not sealing properly – as the interior minister explained this morning.
"The cause is a defective postal vote envelope. The envelope is glued on the side and on the top and also the flap of the envelope, which is only used in Austria.. and on these parts the glue dissolves after 20-25 minutes. Therefore you can open and close it again and it is not guaranteed that something could be taken out from inside (the envelope)," Wolfgang Sobotka told a news conference.
Former Greens leader Alexander Van der Bellen narrowly won May's original presidential vote, but the country's constitutional court ordered a repeat poll, after Norbert Hofer's far-right Freedom (FPO) party successfully challenged the result on procedural irregularities.
He has led in recent opinion polls; victory would be a major boost to Europe's populist movements.
The role of Austria's president is largely ceremonial but nevertheless, if the country were to elect a far-right head of state it would send shockwaves throughout the European Union.
It's official – Austria's presidential election has been postponed because of faulty glue https://t.co/6xBAzkRS4d

— The Local Austria (@TheLocalAustria) September 12, 2016