Austria presidential re-run could come unstuck over glue
Comments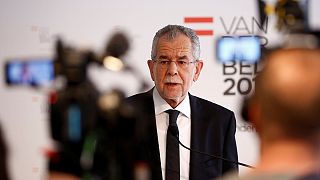 Austria's presidential election re-run is quite literally on the verge of coming unstuck.
The vote, scheduled for October 2, looks set to be postponed on technical grounds due to a problem with the glue on postal vote papers. A manufacturing flaw means some ballots won't seal properly.
Austria's interior minister Wolfgang Sobotka has already admitted it is unlikely the fault will be fixed in time, while both presidential candidates have said they don't expect authorities to stick to the election date. A decision is expected on Monday.
Admitting, it was touch and go, Robert Stein, the Head of Austria's Election Department said: ''In cases where someone wants to vote by post gets a damaged voting card they need to contact us or the municipality and we will substitute it as soon as possible.''
Former Greens leader Alexander Van der Bellen narrowly won May's original presidential vote, but the country's constitutional court ordered a repeat poll, after Norbert Hofer's far-right Freedom party successfully challenged the result on procedural irregularities.