Fierce fighting and air strikes continue in Syria
Comments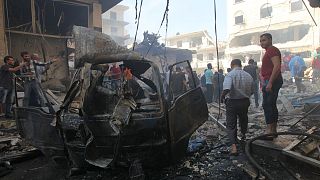 Syrian state television, rebel groups and conflict monitors say fierce fighting and air strikes are continuing in several parts of northern Syria.
Sites in Aleppo and Idlib province have been hit on Sunday.
It comes after scores of people were reportedly killed in aerial bombardments on Saturday.
Turkish air strikes killed 20 ISIL militants in northern Syria on Saturday according to Turkish media citing the Turkish military.
Turkish air strikes kill 20 Islamic State fighters in Syria: CNN Turk https://t.co/rhlbOyuCJh

— Reuters World (@ReutersWorld) September 11, 2016
The UK-based Syrian Observatory for Human Rights said several civilian rescuers were injured when a strike in the town of Saraqeb hit a civil defence centre.
#Turkey hits Daesh targets in northern #Syriahttps://t.co/sD9obLVbD9pic.twitter.com/j5XgWVhw8b

—

ANADOLU

AGENCY

(

ENG

) (@anadoluagency) September 11, 2016
When is the truce due to start?
A humanitarian truce, brokered by the US and Russia in Geneva, is due to come into effect at sundown on Monday.
However, Turkish officials say the two-week old "Operation Euphrates Shield" will "continue decisively".
"It is our duty to our people to finish off Daesh (ISIL) in Syria and to reduce them to a level where they can't carry out attacks in our country. Euphrates Shield is the first step in that," Turkish President Recep Tayyip Erdogan said in a televised address.
Erdogan says PKK trying to disrupt Turkey's operation in Syria https://t.co/AVgZKJKTSG

— Reuters World (@ReutersWorld) September 11, 2016
Rebel factions to welcome deal
Syrian rebel factions are to issue a statement welcoming the US-Russia deal for a ceasefire and aid deliveries.
However, opposition officials say there are reservations about the handling of violations on the government side.
Rebel groups believe they are treated unfairly by the deal and complain they were not consulted about it, commentators say.
"A big part of the agreement serves the regime and does not apply pressure on it and does not serve the Syrian people," said Zakaria Malahifji of the Aleppo.-based rebel group Fastaqim.
Does the ceasefire cover everyone?
No.
It does not cover fighters with the jihadist groups ISIL or Jabhat Fatah al-Sham, previously known as the Nusra Front.
The group broke its formal allegiance to al Qaeda and has changed its name.
On Saturday the US warned insurgents they would face "dire consequences" if they cooperate with Jabhet Fatah al-Sham.
The group fought alongside a range of mainstream and Islamist rebel groups during intense battles in recent weeks in southern Aleppo.
What they are saying
"The factions welcome a ceasefire and welcome the incoming of aid but have reservations about some points – what are the sanctions if the regime does not abide by it?" – Zakaria Malahifji of the Aleppo.-based rebel group Fastaqim.