Deadly fighting rages on in Syria ahead of US-Russia brokered truce
Comments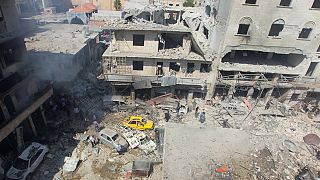 Dozens are believed to have been killed in an air strike on a market in Syria's rebel-held Idlib, just days before a US-Russia-brokered ceasefire is due to begin.
Reports put the death toll at at least 25, although local agencies claim it could be as high as 36, with many more feared trapped under the rubble. At least 80 people have been injured.
The US and Russia, who are backing opposing sides in the civil war, announced a deal in the early hours of Saturday.
Syrian President Bashar al-Assad's government has reportedly given its assent to the two-stage truce.
US Secretary of State John Kerry urged rebel factions to distance themselves from the ISIL militant group.
"If groups within the legitimate opposition want to retain their legitimacy they need to distance themselves in every way possible from Nusra (Front) and Daesh (ISIL). And we expect that Russia will ensure that the Syrian government will adhere to all of its requirements about its air activities and about the access for humanitarian deliveries," he warned.
Fighting is also said to be raging on in Aleppo, leading to scepticism about the potential success of Monday's planned truce.
Some 46 people are said to have been killed and at least 70 injured.
Syria's moderate Free Syrian Army rebels say they see little chance of progress.
"In all the previous ceasefires, we saw the regime had no commitment to them and it was ignoring all the terms of these agreements," fighter Abo Alith said. "This is why we are not supportive of the ceasefire at all. They suggest they are for a ceasefire when they've been bombing the people from their planes, what kind of ceasefire is that?"
Parties on differing sides in the conflict say a matter of hours after the ceasefire was announced, the army attacked rebel-held areas in Aleppo.
Insurgents are reportedly planning a counter-offensive.