US-Russia talks go ahead in Geneva renewing hope for a ceasefire in Syria
Comments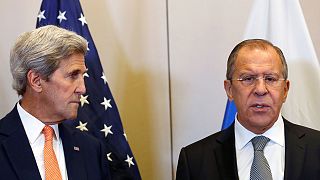 Looking for a breakthrough, the US Secretary of State John Kerry and his Russian counterpart Sergei Lavrov are meeting in Geneva for a new round of talks on a Syrian ceasefire.
Washington remained sceptical of progress. The US wants Russia to force their ally President Assad to lift the siege of Aleppo.
For Staffan de Mistura, UN special envoy on Syria, the situation of 250,000 people in eastern Aleppo was becoming urgent.
"If they do succeed – and the UN as been actively involved in supporting those discussions – the conclusions could make – let's be frank – a major difference. One on the renewal, or relaunching, of cessation of hostilities, which in turn, would have a major impact on the humanitarian access".
One day earlier it had been unclear whether Kerry would meet Lavrov, suggesting that there was a slight chance of progress to resolve the conflict which has been raging for five years, and has killed more than 400,000 people.