Let the Games begin! Paralympics start with spectacular opening ceremony
Comments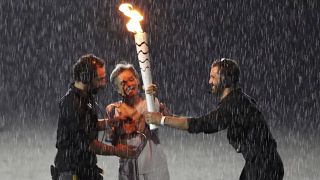 The Paralympic Games have begun in Rio, with a breathtaking opening ceremony.
Despite concerns about attendance, the International Paralympic Committee says some 1.7 million tickets have been sold.
"I'm absolutely coming to see the event," said one local spectator on his way to the legendary Maracana Stadium
"It shows our support for the Paralympic Games and it is also an inspiration to us all."
The Maracana stadium has never looked soooo good!! #Paralympics#OpeningCeremony#Rio2016@GettySportpic.twitter.com/GrF5YuATXp

— Paralympic Games (@Paralympics) 8 septembre 2016
The opening ceremony started in sensational style when US extreme wheelchair athlete "Aaron "Wheelz" Fotheringham":http://www.aaronfotheringham.com/ rolled at high speed down a huge ramp before doing a back flip through a massive ring.
Wheelchair stuntman Aaron Fotheringham - we salute you... What a start to the #Paralympics#OpeningCeremonypic.twitter.com/w6s1Kirn3I

— C4 Paralympics (@C4Paralympics) 7 septembre 2016
The death-defying stunt marked the start of colourful events, complete with Samba beats and a firework display.
Athletes paraded before the crowd in a carnival atmosphere.
"I'm very glad to see others as happy as I am, despite our mobility problems," said Gabriel, a performer.
"We are the host this time," added Brazilian athlete Debora Campos.
"Rio is my hometown so I am very excited. I hope this is a wonderful Paralympic Games and also hope it will be distinctive."'
.@cpboficial will remember the #Rio2016#OpeningCeremony for a long time! May the #Paralympics begin!! @OISphotospic.twitter.com/Wy2wN0oRG8

— Paralympic Games (@Paralympics) 8 septembre 2016
For the first time in decades, the International Olympic Committee (IOC) President missed the opening. IOC head Thomas Bach won't be attending the rest of the games either.
Bach had already said he would miss Wednesday's opening ceremony to remain in Germany for the funeral of his friend Walter Scheel, the former West German foreign minister and deputy chancellor who died last month aged 97.
But officials said he was now unable to reschedule other commitments and will be unable to travel to Brazil after the funeral.
The Games run from Sept. 7-18.