Putin attacks 'immoral, inhumane' ban on Russia from Paralympics
Comments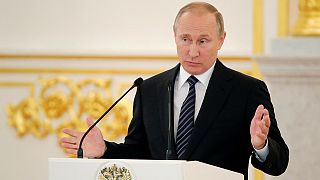 The Russian president has strongly attacked the ban on the country's Paralympic team from competing in Rio next month.
Vladimir Putin acknowledged mistakes made in tackling sports doping and was striving to improve its anti-doping structures "in the most transparent way".
But he alleged political pressure had led international anti-doping organisations to single out Russia for harsh treatment.
The entire Russian Paralympic team was barred on August 7 over the same doping allegations that saw a third of the country's competitors excluded from this month's Olympic Games that ended last weekend.
International Paralympic Committee president condemned a "medals over morals" culture with evidence of state-sponsored doping.
On Tuesday this week the Court of Arbitration for Sport rejected Russia's appeal.
"The decision to disqualify our Paralympians is outside the bounds of law, morality and humanity. It is simply cynical to punish those for whom sport became the reason for being, those who by their own example give hope and self-belief to billions of people with disabilities," Vladimir Putin said during an awards ceremony at the Kremlin for Olympic athletes.
Putin said special competitions would be organised in Russia for banned Paralympic athletes, with winners getting the same prizes they would have had from success in Rio.
In this month's Games Russia's team was reduced to a single athlete in track and field and banned entirely from weightlifting. Russia came fourth in the medal count with 56 medals, 19 of them gold.
World Anti-Doping Agency investigations detailed widespread doping and accusations that senior sports ministry officials covered up hundreds of doping cases.
Russia loses appeal against Paralympics ban https://t.co/oVQdNPKYjFpic.twitter.com/7rKHxe2hA2

— euronews (@euronews) August 23, 2016