Hungary prepares for anti-refugee referendum
Comments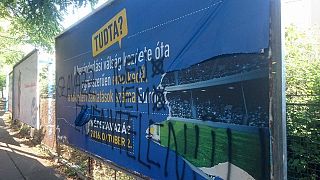 Less than one month to go before the referendum in Hungary and the streets are full with different types of billboards. The Hungarian people must answer the following question on 2nd October: "Do you want to allow the European Union to mandate the resettlement of non-Hungarian citizens to Hungary without the approval of the National Assembly?"
The result will not have an affect on the EU of course but the government still would like to take legal steps on this issue.
"The referendum itself will not have a direct legal effect, but along with the government's political will the National Assembly must take a commitment on this question with legal steps as well," says government spokesman Zoltán Kovács.
While government billboards say, for example that "From Libya alone around 1 million migrants want to come to Europe", there is a satire party whose posters say: "More than 1 million Hungarians want to go to Europe". The so called Two-Tailed Dog Party intends to make fun of the government's hate campaign and they call on people to invalidate the vote.
"It is also important to show this outside Hungary, as Hungary has a very bad reputation nowadays and I think it is good to show that Hungary is not the same as its government, but it is full of nice, friendly and normal people, even if the government is not showing this face of Hungary," says the leader of the Two-Tailed Dog Party, Gergő Kovács.
Many others have taken to social media to express their disgust with their prime minister and his closing of Hungary's southern borders.
#Hungary PM visits #Serbia PM. He seemed to have had some difficulty reaching Serb territory. I wonder why pic.twitter.com/KlrIIhfnTR

— Lydia Gall (@LydsG) September 5, 2016
One NGO campaigning on the internet, Amnesty International Hungary is running an information campaign about the facts and details of migration and also about the referendum itself. They say it is important to talk about this issue not only on the level of politics.
"We find it very important for example to make it clear that it is not about forced resettlement, basically it is more about the transition of asylum requests through Hungary, this is very very important to clear up, and another important thing is that right now this quota system that we are voting about doesn't exist." says Amnesty International Hungary's Director Orsolya Jeney.
However, Amnesty does not tell the voters how to vote. The political parties in Hungary share different ideas: Jobbik will go for 'NO' like the government, some left-wing parties go for YES, while others say that voters shouldn't even take part. So the referendum in Hungary is a political one and the result will not have a direct effect on the migration issue, but it could have important political effects around the European Union.