Fewer migrants crossing the Med to Europe but more dying - IOM
Comments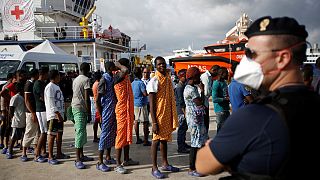 New figures from the International Organization for Migration (IOM) show that fewer people are crossing the Mediterranean Sea, but more are perishing on the crossing to Europe.
IOM reports that 288,005 migrants and refugees entered Europe by sea in 2016 through September 4, a total that does not include hundreds still on their way to Italian ports after being rescued Sunday and Monday in the Channel of Sicily.
More details: migration flows Europe.
'Humanitarian vessel mission
'Responder' docked in the Sicilian port of Augusta early on Wednesday (September 7), carrying 354 rescued migrants as well as the bodies of five women and two men found by rescuers lifeless on their overcrowded boat.
'Responder', operated jointly by the Migrant Offshore Aid Station (MOAS) and the Red Cross, also rescued 183 of the migrants on Monday (September 5), not far from the Libyan coast.
Libyan naval attack on charity ship adds new danger to migrant rescue https://t.co/QBKMTCPR9u

— Refugee Aware (@RefugeeAware) September 7, 2016
Police question migrants
Good weather has meant many more people have been packed onto boats setting sail from Libya.
On board the rescue ship, police officers have questioned migrants to find out more about the people smugglers who may have arranged their trip to Libya.
"How do they get to Libya? Who arrange their boat trip? What do they have to pay? All those kind of things…," Geir Hilmarsen, police officer in command of operations explained. "We do try to identify who is controlling the ship and who has certain specific tasks on board. I give the Italian police the information we get, in order for them to have some lead to investigate properly."
Rescued near Libyan coast
Upon seeing the rescuers, many of the migrants jumped off their overcrowded dinghy and the ship's personnel had to dive in the sea to save them, a MOAS statement said.
The remaining 171 migrants were transferred to 'Responder' by other rescue vessels that remained operational at sea.
On Monday, a total of 15 bodies were recovered and more than 2,700 boat migrants rescued off the coast of Libya, the Italian Coast Guard said.
Migrants have flooded into Europe over the past three years from the Middle East, Africa and Asia, many fleeing violence and poverty at home.
An incredibly powerful report from Sky News as they witness 7 people drown when panic grips a Mediterranean dinghy. https://t.co/1TluBp1Su0

— Barry Malone (@malonebarry) September 6, 2016
---
WATCH: The Anti-Migrant Video Going Viral Across Europe https://t.co/pwov6QiyqK via BreitbartNews</a></p>&mdash; Keith Walker (KeithWalkerNews) September 7, 2016