Lawmakers debate petition calling for fresh Brexit vote
Comments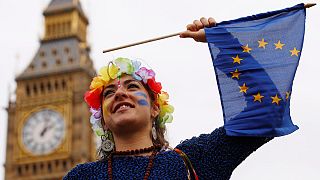 British lawmakers have debated a petition calling for a second referendum on Brexit, an idea backed by Remain supporters including the Scottish National Party, but rejected by the government and Conservative MPs.
Two and a half months down the line we don't know what Brexit actually means in reality

Labour MP
The heated discussion lasted more than three hours on Monday evening.
The public petition argues a fresh vote should be held as turnout was below 75 percent and fewer than 60 percent of voters backed the decision to leave the EU.
British lawmakers debate petition demanding second Brexit referendum https://t.co/DuWBHiggJDpic.twitter.com/4rkcdl0hzN

— Reuters Top News (@Reuters) September 5, 2016
Second EU referendum debate recap: MPs clash over record 4million-strong petition to rip up Brexit vote – Mirror https://t.co/JiSHn2e0R5

— Samuel Miller (@Hephaestus7) September 6, 2016
In the June 23 vote, 51.9 percent, or 17.4 million people, voted to leave the EU while 48.1 percent, or 16.1 million people, voted to stay.
The government has repeatedly ruled out a second referendum, saying the landmark vote should be respected.
Lawmakers, however, must debate any petition that receives 100,000 signatures – and this one drew 4.14 million
Remain supporters contend that voters were lied to and the country now faces huge economic and political uncertainty.
"Two and a half months down the line we don't know what Brexit actually means in reality and we're living in uncertain terms and that's why we have this petition on the floor today," said Labour Party MP David Lammy.
"We don't know what form Brexit will take, or when it might happen."
"Nothing more dangerous"
But any fresh hopes of a new vote were dashed when Brexit Secretary David Davis told the House of Commons there would be "no attempt to stay in the EU by the back door."
Conservative MPs including John Penrose said holding a second poll would be catastrophic.
"I think that we all need to ask ourselves why part of the backing for the Leave campaign was this cry of frustration at our democracy," Penrose said.
"I can think of nothing more dangerous, nothing more corrosive, if we in this place say that we are not listening and we stick our fingers in our ears and refuse to honour the decisive decision."
Brexit: debate over 'corrosive' second EU referendum sparks angry clashes among MPs https://t.co/AbNftwSdhr

— Evening Standard (@standardnews) September 5, 2016