ISIL claims responsibility for deadly Baghdad bomb blast
Comments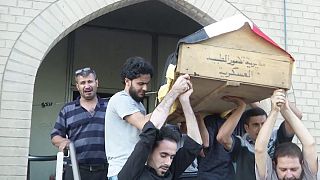 A car bomb explosion near a hospital in central Baghdad has left at least nine people dead.
ISIL says one of its suicide bombers targeted Shi'ite Muslims in the Karrada district, shortly before midnight on Monday.
At least 20 people were wounded. The death toll is expected to rise.
It happened close to where another suicide bombing by the ultra-hardline Sunni militants killed over 320 people in July, in the deadliest such attack in the Iraqi capital.
Mourners have been burying their dead after the latest bloodshed. Among those killed were a child and his grandfather.
The so-called Islamic State group considers all Shi'ites to be heretics who must repent or die and seeks to provoke a wider sectarian battle to hasten the apocalypse.
The militants have lost ground in the past year to US-backed government forces and Iranian-backed Shi'ite militias, but such bombings show they can still strike outside the territory they control in Iraq's north and west.