US and Russia fail to reach Syria deal at G20
Comments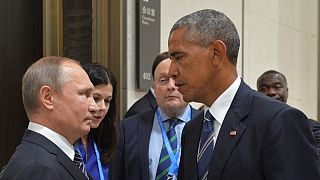 US President Barack Obama and Russian President Vladimir Putin have been unable to reach an agreement on ending the violence in Syria.
The pair met on the sidelines of the G20 summit in China after talks between their foreign ministers also ended without success.
It was the second time in two weeks that US Secretary of State John Kerry and Russian Foreign Minister Sergei Lavrov have failed to reach a deal on a ceasefire.
The previous time they met was in Geneva on August 26. Kerry has said the United States won't accept just any deal just to have it collapse again.
Kerry fails to secure a deal with Russia for a cease-fire in Syria after a new meeting https://t.co/W1r4MlNzMXpic.twitter.com/Jih8zLWA5d

— Bloomberg (@business) 5 septembre 2016
A cessation of hostilities agreement brokered by Lavrov and Kerry in February unraveled within weeks, with Washington accusing Syrian President Bashar al-Assad's forces of violating the agreement.
The latest diplomatic failure has dashed hopes, in particular, for a weekly 48-hour truce in the war-shattered city of Aleppo to allow aid deliveries and medical evacuations.
At an end of summit news conference, German Chancellor Angela Merkel said that President Putin has a major role to play in whether there is a ceasefire in Aleppo.
The sticking points in the latest talks are unclear but key differences remain between the US and Russia.
Both are battling ISIL but Moscow supports President Assad and his forces, including with direct military intervention.
Washington, also conducting air strikes at the head of a coalition, backs opposition groups seeking to topple the Syrian leader.