Solar eclipse watchers celebrate Reunion 'ring of fire'
Comments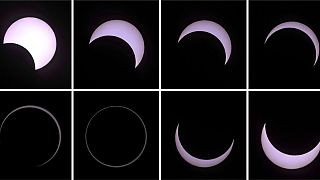 A solar eclipse delighted astronomy fans on Reunion Island in the Indian Ocean on Thursday (September 1), drawing sky watchers outside to watch the moon pass before the sun to make a so-called "ring of fire".
Some 3,000 people gathered on the southwestern side of the French-governed island to see the "annular solar eclipse" – the moment when the moon blots out most of the sun to create the appearance of a bright ring around its edges.
LA REUNION- The moon is leaving a ring of fire effect around moon during an annular solar eclipse. By Richard Bouhet pic.twitter.com/Lqe3JsUM23

— Frédérique Geffard (@fgeffardAFP) September 1, 2016
Wearing protective glasses, residents and tourists watched and took pictures of the astronomical phenomenon for several hours.
"It helps me to understand the universe a bit better… I've been here for three years, and I'm discovering a lot of things because you're at a mystical area of the planet," said sky watcher Gilles Degras.
#annulareclipse Ring of fire at Reunion Island (via l'Observatoire de Paris) https://t.co/s5QqjK5G8Z) pic.twitter.com/1r4GUthcFD

— Basso Continuo (@bckaemper) September 1, 2016
Reuters