Maduro attempts to stave off slow political death in Venezuela
Comments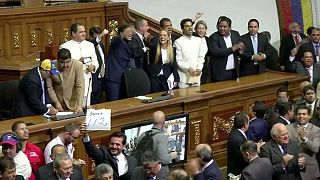 In Venezuela the trial of strength between Nicolás Maduro and his enemies has lasted eight months, ever since the opposition seized a parliamentary majority for the first time in 16 years.
It commands a two-thirds majority with 112 members of parliament, and intends to impose its agenda and its policies. That will include an amnesty law and more, according to the Congress' president.
"We are looking for, in a six-month period starting today, a constitutional, democratic, peaceful and electoral way out in order to put an end to this government," said the newly-sworn-in Congressional President Henry Ramos.
In March the opposition launched two thrusts to get Maduro out of office; a constitutional modification to shorten his six-year-term to four, and a recall referendum.
Maduro has also taken several initiatives of his own in a bid to reverse a rapidly deteriorating economic situation.
Following approval from the National Electoral Commission, (NEC), the opposition began to collect signatures for the recall referendum.
But obtaining such a recall in Venezuela is very hard and the opposition has a limited time frame in which to conclude a long, drawn-out process because the constitution says any recall has to take place in the middle of a presidential mandate. In Maduro's case that is next January.
The first step to getting a recall referendum was to collect 195,000 signatures, or one percent of the registered electorate.
On June 8th that target was more than met with the NEC validating 1.3 million signatures.
On May 13 President Maduro declared a state of economic emergency to protect the country against what he called "exterior threats" and "sabotage within". He called for factories to be seized.
For its part the opposition pressed forward with the recall referendum, whose second step involved signatories personally verifying their recall signatures. By law 200,000 were required. At the start of August the NEC said nearly twice as many had been validated.
However, in August the National Electoral Commission announced that the third and final stage would take place only in late October.
The last requirement of the process is the collection of four million signatures, representing 20 percent of the electorate, in four days.
The timings are important because the referendum must take place before 10 January 2017 to trigger early elections in the event of the President being recalled, if not his vice president will assume the role until the end of the mandate.