Cape Canaveral explosion destroys SpaceX rocket and Israeli satellite
Comments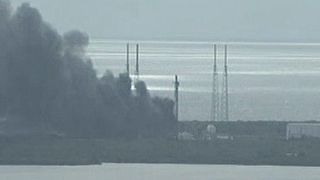 An explosion has destroyed a rocket during test firing at Cape Canaveral in Florida.
It sent black smoke billowing into the sky and shook buildings several kilometres away.
No-one was injured, according to SpaceX, which owns the Falcon 9 rocket.
#SpaceX Falcon 9 rocket carrying the AMOS-6 communications satellite for Spacecom of Israel https://t.co/Cy6fo7vVSdpic.twitter.com/oF3IW9S3VG

—

WPEC

CBS12 News (@CBS12) 1 septembre 2016
The company says an "anomaly" during the static fire test destroyed the rocket and an Israeli communications satellite it had been due to carry into space at the weekend.
Statement on this morning's anomaly pic.twitter.com/3Xm2bRMS7T

— SpaceX (@SpaceX) 1 September 2016
Elon Musk founded SpaceX in 2002, with the goal of slashing launch costs – to make travel to Mars affordable. It plans to send humans there as early as 2024.
The company had recovered from a launch accident in June last year, that destroyed a load of cargo bound for the International Space Station.
It was not immediately clear if Thursday's explosion damaged SpaceX's launch pad or what impact it would have on the dozens of NASA and commercial satellite missions on its launch schedule.
The company operates two launch pads – its other site is at Vandenberg Air Force Base in California.
Space X launch pad explosion occurred during fueling test at Cape Canaveral, engineer says. https://t.co/5pqhHYATGepic.twitter.com/zlK1qqTxKn

— Jumbo Festus (@PiccoloGeneral) 1 September 2016
SpaceX rocket explodes during launch: https://t.co/e5rF6MebySpic.twitter.com/XLG5FwudeT

— Evening Standard (@standardnews) 1 September 2016
SpaceX's Falcon 9 just exploded on a launch pad in Cape Canaveral. pic.twitter.com/aUCeJ7JtDF

— Science Channel (@ScienceChannel) 1 September 2016