NASA's SpaceX Dragon capsule returns home
Comments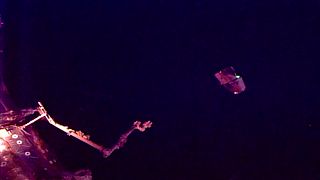 NASA's SpaceX Dragon capsule has returned to Earth carrying a huge cargo of scientific experiments from the International Space Station.
The pod is believed to have been loaded with around 3000 pounds of research and gear.
Last month the Dragon delivered a new docking port.
Once installed that should give NASA, which has up to now been reliant on Russia's Soyuz spacecraft, independent access to the ISS.