Death toll from Italy's earthquake tops 290
Comments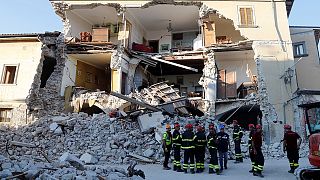 Almost a week after a devastating earthquake hit central Italy, emergency workers continue to recover the dead.
The number of those killed has now topped 290, after three more bodies were found in the debris of a hotel in Amatrice, which felt the full force of nature's wicked hand.
For 119 years, Amatrice's Hotel Roma was an iconic meeting place. Now it's mostly rubble. https://t.co/Z4uhVLFjsopic.twitter.com/z9uduV2sgS

— Financial Times (@FT) 26 August 2016
A funeral ceremony will take place on Tuesday for many of the victims who died in the town.
Those who survived the magnitude 6.2 quake are struggling to come to terms with what has happened.
"Here the ground doesn't stop shaking. I don't know. I have the impression a huge rift will open and we will all fall in it because it is just such a terrible thing," said Roberto de Cesaris.
As emergency workers continue to look for bodies, Italy's prime minister Matteo Renzi says he will present a national plan – to bolster earthquake protection.
Prosecutors are investigating why supposedly quake-proofed buildings collapsed in the disaster.
Renzi – who has promised to rebuild the shattered communities -says his country needs a "change of mentality."
But that "change of mentality" will be too late for those who've lost their lives and those who've lost their homes.
Renzi to present national plan to strengthen Italy's quake defenses https://t.co/1alzhoZrJx

— Reuters World (@ReutersWorld) 29 August 2016