Italian museums donate ticket proceeds to quake-rebuilding
Comments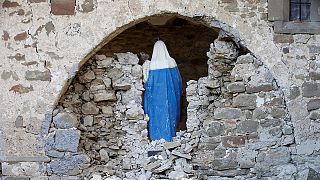 After last week's devastating earthquake, Italian authorities are looking at how to pay for the rebuilding work.
Museums across the country have promised to donate takings from Sunday's ticket sales to quake-affected areas.
The culture ministry called on Italians to visit archaeological sites and museums to help support the locals.
A number of restaurants have also agreed to give money to the rebuilding effort.
List of restaurants participating in fundraising for #Amatrice earthquake survivors when people order Amatriciana: https://t.co/Mc8xsBcdAg

— Barbie Latza Nadeau (@BLNadeau) August 28, 2016
Sant'Angelo in ruins
The village of Sant'Angelo in central Italy lies almost completely in ruins.
Its local cemetery has coffins clearly visible from cracked tombs.
"The old part of the Sant'Angelo village cemetery, where we are right now, is almost completely destroyed," said Mario Feliziani, president of local cultural association AIPS. "You can see that the graveyard and the Church of Madonna di Galloro are practically razed to the ground."
Emergency workers were applauded by locals as they pulled a historic Madonna statue from the rubble of the cemetery.
"In this situation, it is very tragic for us because we have lost everything," said local resident Franco Paoletti. "This Madonna statue is giving us a hope, for sure. We hope for the best."
Some 290 people lost their lives in the earthquake.
Italy's culture ministry says about the same number of buildings have been damaged in a 20 kilometre radius from the quake zone.
"The town is finished. It all came down." Our NBCNightlyNews</a> spot on <a href="https://twitter.com/hashtag/Italy?src=hash">#Italy</a> in mourning after the <a href="https://twitter.com/hashtag/ItalyEarthquake?src=hash">#ItalyEarthquake</a> <a href="https://t.co/oifLX0B0YE">https://t.co/oifLX0B0YE</a></p>&mdash; Lucy Kafanov (LucyKafanov) August 28, 2016