Grieving relatives attend state funeral for victims of Italian quake
Comments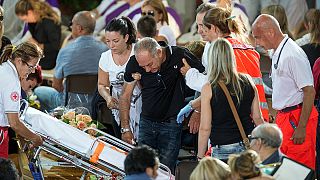 Weeping relatives hugged each other and reached out to touch the varnished coffins of victims of an earthquake at a state funeral held on Saturday (August 27) for some of the 290 people who died in the deadly disaster.
Amongst the 35 coffins laid out in a sports hall were two small caskets holding the bodies of an 18-month-old baby and a nine-year-old girl, two of some 21 children who died when the quake hit central Italy early on Wednesday.
"Don't be afraid to bewail your suffering, we have seen so much suffering. But I ask you not to lose your courage," Bishop Giovanni D'Ercole said in a homily in the hall, which was packed with grieving families and the nation's top politicians.
"Only together we can rebuild our houses and churches. Above all, together we can give life back to our communities," he said, speaking in front of a dusty crucifix that had been salvaged from one of dozens of churches devastated by the quake.
The youngest victim of the earthquake was five months old. The oldest was 93.
Oh man. Heartrending letter fr firefighter 2 girl pulled fr rubble: sorry I got there too late; we gave our all #CBCpic.twitter.com/RQ5AvXkcAt

— Megan Williams (@MKWilliamsRome) August 27, 2016
Rescuers continued to search through the rubble using special tools, cameras and microphones on Saturday, but there was little hope of finding survivors.
How do you cover grief like this? It's gentle, pervasive, yet hard and catching in your throat. A hand on a shoulder. A pursed lip. SBSNews</a></p>&mdash; Nastasya Tay (NastasyaTay) August 27, 2016
#Arquata. High in the hills of central Italy. Day of mourning. pic.twitter.com/qv61vNDMSZ

— Paul Workman (@PaulCTV) August 27, 2016