Belarussian president offers carrots to a famous visitor
Comments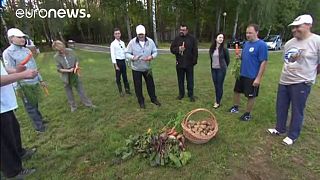 Hollywood actor Steven Seagal visited Belarus and was given a tour of president Alexander Lukashenko's farm.
He was actually visiting the country in his role as a consultant for a computer games company.
But he couldn't turn down the opportunity to sample some local produce, including a freshly peeled raw carrot.
He got a watermelon too, but decided not to tuck in straight away.
However, he might have trouble taking it back home as watermelons do not feature on the US agricultural department's list of fruit and vegetables approved for import from Belarus.