Turkish-backed rebels enter ISIL-held Jarablus in Syria
Comments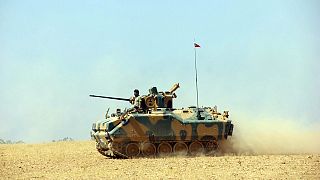 Turkish tanks have been in action inside Syria, taking part in an offensive to try to drive the self-proclaimed Islamic State from the border area.
Turkish forces crossed the border early on Wednesday working alongside Syrian rebels to push ISIL out of the border town of Jarablus.
Rebel sources said the operation was also supported by US-led coalition warplanes.
Turkey has vowed to "completely cleanse" the militants from its border after a suicide bomber believed to be linked to ISIL killed 54 people at a Kurdish wedding in the south east.
Ankara also wants to prevent further gains by Kurdish militia fighters. It has been at odds with Washington which sees the group as an ally in the fight against ISIL.
A rebel commander has been quoted as saying that most ISIL fighters in Jarablus had pulled out and some had surrendered.
Another commander said half the town was now under the control of the Turkish-backed rebels.
Earlier, the Syrian Kurdish Democratic Union Party tweeted that Turkey was entering a "quagmire" in Syria and faces defeat.
It's the first time Turkish warplanes have struck in Syria since November.
The start of the operations saw coalition planes take off from Turkey's Incirlik air base.
Turkey and the US hope that by sweeping ISIL from the border they can deprive the militants of a lucrative smuggling route which has helped swell their ranks with foreign fighters.