'They are left under the rubble': survivors in Italy describe earthquake terror
Comments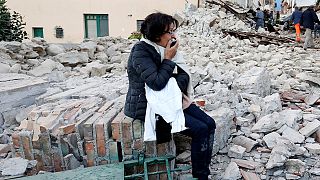 The area worst hit by the Italian earthquake sees its population swell in the summer, with tourists flocking to the mountains to attend annual festivals.
It looked like Dante's Inferno.

Rome resident, visiting Illica
While prosperous for the local towns and villages, the rise in numbers means it is difficult to know how many people are missing. Figures given by rescue workers and the Civil Protection Agency are estimates.
Eyewitnesses have spoken of their distress in the wake of the disaster.
'They are left under the rubble'
Domenico Bordo's relative is trapped in the rubble of a building:
"No one has gone there yet. They need vehicles. They sealed off the area and kicked us out. They made us leave, just like that. And they are left under the rubble."
'Like Dante's Inferno'
Agostino Severo is visiting Illica from Rome:
"We came out to the piazza, and it looked like Dante's Inferno. People were crying for help, help. Rescue workers arrived after one hour… one hour and a half."
'No one to rescue us'
Mrs D'Angelo, who is local to Accumoli, described her terror:
"It was very scary. There was a huge tremor and everything was moving. We were not able to get up. There was no light, nothing, no one to rescue us."
'I have never experienced anything like this'
Fellow Accumoli resident Giancarlo said the size of the 'quake was unprecedented:
"We are waiting to see what will happen. We don't know anything. It's terrible. I'm 65 years old and I have never experienced anything like this. Small tremors, yes, but nothing this big. This is a catastrophe."