Iraqi forces inch closer to ISIL-held Mosul
Comments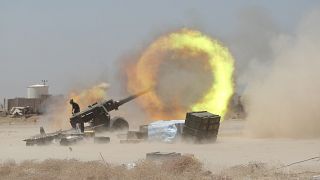 Iraqi security forces are closing in on the city of Mosul, which is a major ISIL strong hold. On Tuesday with the help of the US-led coalition, Iraqi troops began to drive out the jihadists from the nearby town of Qayyarah, south of the city.
But the UN's refugee agency (UNHCR) has warned that the operation could provoke a humanitarian crisis.
"Mosul, you probably don't need much reminding, it is Iraq's second largest city. The humanitarian impact of the military offensive there, is expected to be enormous. Up to 1.2 million people could be affected," said UNHCR Spokesperson Adrian Edwards in a news briefing.
The UN is said to be preparing for a major refugee exodus from Mosul once the fighting reaches the city. Some 213,000 people have already fled their homes in other party of the country.The refugee agency says it is looking to set up camps in six locations across Iraq but finding available land for the new camps has become critical.
.Refugees</a> ramps up for additional camps, 1.2 million expected displacements in Mosul, <a href="https://twitter.com/hashtag/Iraq?src=hash">#Iraq</a> <a href="https://t.co/MuCA31xETg">https://t.co/MuCA31xETg</a> <a href="https://t.co/upvwjxjdDB">pic.twitter.com/upvwjxjdDB</a></p>&mdash; UN News Centre (UN_News_Centre) August 23, 2016
Qayyarah which lies 75km south of Mosul, is seen as a strategic launching area for the retake of Mosul which has been held by ISIL since 2014. The militants' other stronghold of Fallujah was recaptured by Iraqi forces in June.