Ukraine tension rises as Independence Day nears
Comments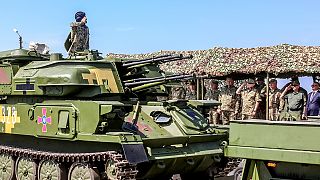 A ceasefire is supposed to be in place.
Usually we can't get out because there is fighting

Marinka resident
But as Ukraine's Independence Day nears, fighting against pro-Russian separatists in the east has intensified.
Several Ukrainian soliders were hurt in an exchange of fire on Monday night in the city of Marinka in the Donetsk region.
"None of these Independence Days have passed without sad things happening," said Dmitriy, a Ukrainian soldier fighting there.
It is a sad situation for those fighting and for civilians caught up in a conflict which has killed over 9,500 people since early 2014.
Volodymyr (35 y.o) does not let his children out because of the fear of the presence of #mines#Donetsk#Ukrainepic.twitter.com/gecg04oRo6

— UNICEF Ukraine (@UNICEF_UA) 11 août 2016
With a number of homes destroyed in the latest clashes, local woman Nona Alexeevna gave a frank account of her daily routine.
"Our life here is to get up in the morning. That is something in itself," she said.
"Nobody knows what will happen next. Now it is quiet. We are resting. But usually we can't get out because there is fighting. Kids don't leave their homes. They are afraid."
In the capital Kyiv on Tuesday, the eve of Independence Day was marked by an annual Flag Raising Ceremony attended by President Petro Poroshenko. He later set off to meet Ukrainian soldiers on the frontline.
The flag raising ceremony is a key moment of national pride and has taken on extra resonance since Russia annexed Crimea from Ukraine in 2014.
Moscow this month accused Ukraine of planning terror attacks in Crimea to provoke a new conflict over the peninsula. Ukraine has flatly denied that, claiming the accusation is a fabrication that could be used as a pretext for a new Russian invasion.
#Ukraine, #Russia flex muscles ahead of #IndependenceDayhttps://t.co/3UznVxaZkqpic.twitter.com/n8TP8ZcmvR

— dwnews (@dwnews) 23 août 2016
The leaders of Russia, Germany and France have agreed to meet to discuss the situation in Ukraine on September 4-5 in China on the sidelines of the G20 summit, the Kremlin said on Tuesday.
Russia's Vladimir Putin held a phone call with German Chancellor Angela Merkel and French President Francois Hollande, the Kremlin said, adding that Putin drew attention to "provocations" by Ukraine in Crimea.
The Kremlin also said concern was expressed about instability along the line of confrontation in east Ukraine.