Israel grants 'permission' for Hebron settlement expansion
Comments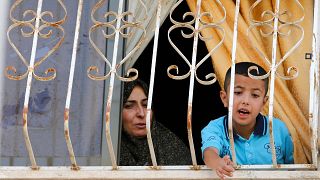 Israeli authorities have confirmed the process of expanding an Israeli settlement in the West Bank city of Hebron has begun.
The move was swiftly condemned by the Palestinians, who said they would seek international pressure to stop the plan from progressing.
Hebron is the West Bank's most populous city and a flash point between Israelis and Palestinians.
About 1,000 Jewish settlers live in heavily fortified enclaves in Hebron, among tens of thousands of Palestinians.
Hagit Ofran is from anti-settlement group Peace Now.
"The [Prime Minister Benjamin] Netanyahu government decided to expand the settlement in the heart of Hebron, one of the most crucial and controversial settlements," said Ofran. "They are doing it by bending the laws and allowing settlers in a military base in an unprecedented way, and we think it is bad for Israel and bad for the future of the two state solution."
The Governor of Hebron said the move showed that the Israeli government was partnering with the "settlers," calling it "one of the most dangerous decisions that has been made in regards to Hebron."