Hong Kong rally against ban on pro-independence election candidates
Comments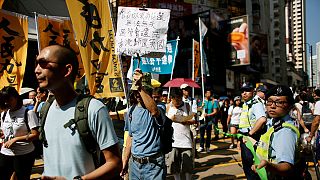 About a thousand protesters rallied through Hong Kong on Sunday (August 21) against a ban on six pro-independence candidates from running in upcoming elections.
The idea of independence is dismissed as illegal by Beijing and Hong Kong authorities.
"We are afraid that in future, the government will have more condition to pose on the election and more and more political parties and candidates will not be allowed to join this election," explained protest organiser Jackie Hung. "That is why we have this rally against these decisions and we hope that the court in the Hong Kong can give a fair judgment later."
The former British colony was returned to China in 1997 with an arrangement that guaranteed a high degree of autonomy.
But Beijing's refusal to grant full democracy has prompted widespread street protests.
Police estimates put the number at Sunday's demonstration at 760, while organisers said 1,300 took part.