22 Mexican drug cartel members 'executed by police' - report
Comments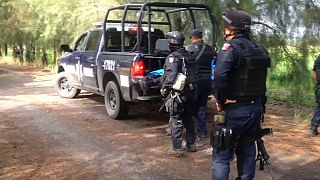 One of the worst allegations of abuse by Mexican security forces has been revealed in a damning report by the country's national human rights commission.
It says about two dozen suspected drug cartel members were executed by federal police officers.
The commission president said police had lied about the incident.
"The investigation confirmed facts that show grave human rights violations attributable to public servants of the federal police," said Luis Raul Gonzalez. "The excessive use of violence led to the arbitrary death of 22 civilians."
Gonzalez said that officers moved weapons to manipulate the scene and relocated seven of the bodies.
The National Human Rights Commission said there were also two cases of torture and four more deaths caused by excessive force. It said it could not establish satisfactorily the circumstances of 15 others who were shot to death.
Mexico's national security commissioner, Renato Sales, who oversees the federal police has denied the accusations.
Mexican authorities have long been implicated in abuses since a drug war began in 2006.