Singapore sling as Schooling returns home to heroes welcome
Comments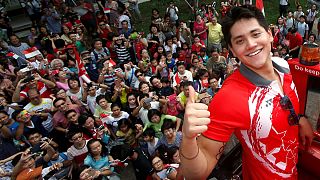 Thousands welcomed home gold medal hero Joseph Schooling after he won Singapore's first ever gold medal by beating none other than the great Michael Phelps in the 100-metre butterfly final.
I really love his perseverance and how he never gave up

12-year-old fan
In Pictures: Joseph #Schooling's victory parade https://t.co/rQeW9CsqQzpic.twitter.com/XkZzogAkfq

— The Straits Times (@STcom) August 18, 2016
Schooling has been catapulted to national hero status after his victory.
On his return he travelled in an open-top bus around the city, stopping off at various locations to meet well-wishers.
Thousands turned out waving flags and cheering him along the 23 kilometre route.
"I really love his perseverance and how he never gave up, and he made all us Singaporeans really proud because he won our first gold Olympic medal," said 12-year-old Thessabel Chong, who was the first person to get Schooling's autograph.
"Well, I think the strongest trait he portrays is that he perseveres against all odds, and the strong support from his family… Actually I respect very much his parents who are behind him all the way," said her mother, Doreen Chang.
The 21-year-old, who is currently a university student in Texas, in the United States, is also in the money as he receives the equivalent of 660,000 euros for his efforts from Singapore's Foreign Sports Talent programme.
Prior to Schooling's big Olympic splash Singapore had won only two silver and two bronze medals since it joined the Olympic fold in 1948.