South Koreans protest deployment of US anti-missile defence system
Comments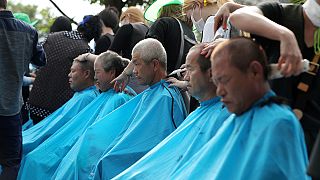 Hundreds of South Koreans have had their heads shaved in protest over a government decision to install a US manufactured anti-missile defence unit.
The Terminal High Altitude Area Defence (THAAD) system is to be deployed in Seonjgu, in the south east of the country, the move is in response to North Korea's repeated missile test launches.
Angry and THAAD: South Koreans shave heads to protest U.S. missile defense system https://t.co/IJmn3jlJvApic.twitter.com/Do2DC8v9hg

— Reuters Top News (@Reuters) August 15, 2016
"The system should not be deployed at all, not just in Seonjgu, but anywhere in South Korea. We came here today to shave our heads to demonstrate against the decision," said one demonstrator.
Activists believe the plan will force China, Russia and North Korea into closer alliance adding to the already tense atmosphere in the Asia-Pacific as Japan and Seoul, backed by the US and Australia continue to criticise Pyongyang and Beijing.
#China considers trade sanctions on #SKorea over #US missile shield system THAADpic.twitter.com/ULZusNA2P0

— Warfare Worldwide (@WarfareWW) August 15, 2016
North Korea's familiar sabre-rattling is becoming more and more frequent and its August 2 missile launch into Japan's
exclusive economic zone too close for
comfort in Tokyo.