Battle for Mosul: Kurdish forces capture dozen villages from ISIL
Comments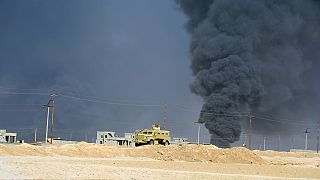 Kurdish Peshmerga forces in Iraq say they have made major gains near Mosul, capturing a dozen villages from ISIL.
Aided by US-led coalition air strikes, the latest advance is part of a wider operation to encircle and retake Iraq's second largest city.
Iraqi Prime Minister Haider al-Abadi has said the fall of Mosul would mark the effective defeat of so called Islamic State in the country. He has said he aims to take back the city this year.
Rejoicing as Kurdish forces entered her village, one woman said: "I hope God preserves you and helps you to win against your enemies, you are very welcome here, you liberated us, thank you, I'm crying with happiness. It has been two years now since those ISIS pigs took everything, my money, my family, my house, everything."
Along with the Kurds, Iraqi government forces are also moving in on Mosul from the south. Clashes are said to be on-going.
Earlier, a video purportedly showing ISIL fighters attempting to halt the coalition's advance was published on social media.
The militant group seized Mosul in 2014 declaring the city as its de-facto capital in Iraq.