Mexico marijuana fair pushes for drug to be made legal
Comments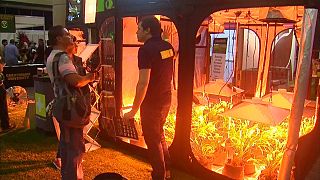 Growing and selling marijuana is illegal in Mexico, but that has not stopped 'Expoweed'.
The organisers of the marijuana fair and conference in Mexico City over the weekend say the aim is to counter popular misconceptions about the plant and campaign to make it legal, particularly for pain relief.
"I think there is a evolution, culture is changing and more and more people no longer believe in the myth that the consumer is crazy, sick, unproductive and so I think this myth is diminishing and this is in part due to the successes of the Mexican marijuana movement," said expo organiser Leopoldo Rivera.
A bill permitting the use of medical marijuana is due before Mexico's parliament this month and among those who have voiced support for easing limits is Mexican President Enrique Pena Nieto.
En Expoweed México; ya compartiendo con agrupaciones de pacientes usuarios de cannabis #Autocultivo en México ya! pic.twitter.com/uY0iGg2IL7

— Fundación Daya (@FundacionDaya) August 12, 2016
Even with marijuana being a mainstay business of violent drug gangs, a growing number of politicians are calling for legalisation, or relaxation of laws, as a way of curbing cartel violence.
"In Mexico there is a lot of biases and there is a lack of information on these types of expos in society. These types of expos are very important so that people can remove the stigma of marijuana and the people who consume marijuana are criminals. It is fundamental to change this in our country," said lawmaker Marta Tagle.
If medical marijuana use were permitted, it would put Mexico in line with countries like Uruguay which became the first country to legalise the growing, sale and smoking of marijuana in 2013.