Longest ever Mexico-California drug tunnel unearthed
Comments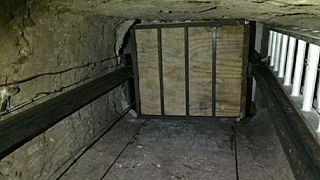 United States Federal agents have seized about one ton of cocaine and six tons of marijuana.
The stash had been smuggled through a newly discovered tunnel stretching beneath the border between Mexico and the US state of California.
At 800 metres, it is longest such passageway unearthed.
"On the surface I think it fair to say that few would suspect that traffickers were moving multi-ton quantities of cocaine and marijuana in an unassuming way in full view of the world around them with really nothing more than a three-foot hole," said Laura Duffy, US Attorney for the Southern District of California.
The latest tunnel ran from the bottom of an elevator shaft built into a house in Tijuana to a hole in the ground on the US side enclosed within a fenced-in lot set up as a pallet business. The hole was concealed under a trailer-sized dumpster that smugglers used to move the drugs off the lot, federal officials said.
"Once the dumpster was loaded with drugs, and that was activity that was monitored and surveilled by agents, what the defendants did was take a forklift and move the pallets out from around the dumpster and then they would proceed to load the dumpster on to a truck and physically move it to a secondary site that was a parking lot," explained Duffy.
Federal agents followed a truck that carted the dumpster to a central San Diego spot about 40 kilometres north of the border and watched as the cargo was loaded onto a box truck, which drove away.
The suspects were all jailed on various drug-trafficking conspiracy charges, authorities said.