Mexico pushes for softer laws on marijuana use
Comments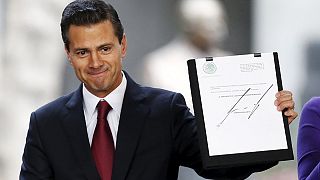 Mexican President, Enrique Peña Nieto has put forward proposals to legalise marijuana-based medicines.
He also wants to raise the legal amount users can carry and free prisoners on minor weed charges. If he gets his way, Mexicans will soon be allowed to carry up to 28 grams of marijuana instead of the current 5 grams.
It's a sharp turn around from the country's previous 'zero tolerance' war on drugs
"This initiative would allow us to authorise the use of medicine derived from marijuana and/or its active ingredients" said Peña Nieto .
Although he is clear that this is not a complete legalisation of cannabis, in a continent where hundreds of thousands of people have died in drug-related violence, growing numbers of politicians across Latin America are now agreed that prohibitionist drug policies have failed.