Turkish prosecutors seek jail term for pro-Kurdish party leader Demirtas
Comments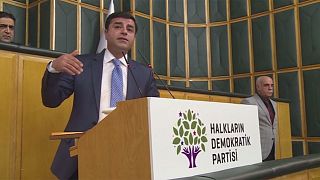 Turkish prosecutors are seeking five-year jail sentences for the head of the People's Democratic Party (HDP), Selahattin Demirtas and another pro-Kurdish MP Sirri Sureyya Onder.
The indictment accused them of 'spreading terrorist group propaganda' for praising the militant Kurdish Workers Party (PKK) and its jailed leader Abdullah Ocalan in speeches dating back to 2013, when the PKK and Ankara were negotiating terms for peace.
Many prosecutions have been launched against HDP politicians since their parliamentary immunity was lifted in May.
The latest announcement could ignite further tensions in the mainly Kurdish southeast, blighted by conflict for more than a year.
President Erdogan accuses the HDP of being the political extension of the PKK. They deny direct links the PKK and promotes negotiations to end the 30-year insurgency.