Look Up! How to watch the 2016 Perseid meteor shower
Comments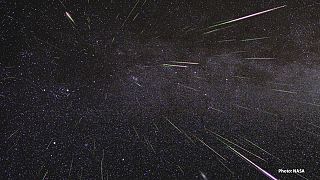 Known for its fast and bright meteors, the annual Perseid meteor shower is one of the best potential meteor viewing opportunities of the year.
Video: perseids Meteor Shower, August 11 2016
The Perseids show up every year in August when Earth ventures through trails of debris left behind by an ancient comet. This year, Earth may be in for a closer encounter than usual with the comet trails that produce the meteor shower, setting the stage for a spectacular display.
"Forecasters are predicting a Perseid outburst this year with double normal rates on the night of Aug. 11-12," said Bill Cooke with NASA's Meteoroid Environments Office in Huntsville, Alabama. "Under perfect conditions, rates could soar to 200 meteors per hour."
An outburst is a meteor shower with more meteors than usual. The last Perseid outburst occurred in 2009.
Every Perseid meteor is a tiny piece of the comet Swift-Tuttle, which orbits the sun every 133 years. Each swing through the inner solar system can leave trillions of small particles in its wake. When Earth crosses paths with Swift-Tuttle's debris, specks of comet-stuff hit Earth's atmosphere and disintegrate in flashes of light. These meteors are called Perseids because they seem to fly out of the constellation Perseus.
Look Up! Stay up all night Aug 11-12 to see the #PerseidMeteorShower light up the night sky: https://t.co/JTQZXqpnbBpic.twitter.com/gu4Th8P7aa

—

NASA

(@NASA) August 2, 2016
Most years, Earth might graze the edge of Swift-Tuttle's debris stream, where there is less activity. Occasionally, though, Jupiter's gravity tugs the huge network of dust trails closer, and Earth plows through closer to the middle, where there is more material.
This may be one of those years. Experts at NASA and elsewhere agree that three or more streams are on a collision course with Earth.
"Here's something to think about: the meteors you'll see this year are from comet flybys that occurred hundreds if not thousands of years ago," said Cooke. "And they've travelled billions of miles before their kamikaze run into Earth's atmosphere."
There will be a gorgeous meteor shower this week #PerseidMeteorShowerhttps://t.co/uWLuPFkw6Xpic.twitter.com/JkkrZ9mrnG

— Popular Science (@PopSci) August 8, 2016
HOW

CAN

I

WATCH

THE

METEOR

SHOWER

?

You don't need any special equipment like telescopes or binoculars to see this spectacular meteor shower.

The shower is best observed from 11pm or midnight onwards, when you may see up to 100 meteors per hour.

- More of the fainter meteors will be visible from the countryside, away from city lights.

-The best direction to look is wherever your sky is darkest, probably straight up.

- Keep away from bright lights, give your eyes et least 15 to 20 minutes to adapt to the darkness and lie back and stare at the sky.

-The Perseids are ideal for digital photography. Attach your camera to a tripod, preferably with a wide angle lens and a high ISO (darkness) setting. Keep the shutter open for 10-15 seconds at a time (longer in a really dark place). With a bit of luck, you should capture one or more Perseids streaking across the photo!