12 babies die in Iraq hospital fire
Comments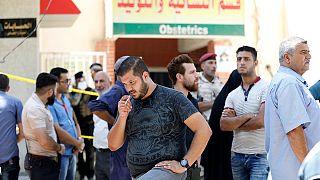 At least 12 premature babies have been killed in a fire at a hospital in Baghdad.
The blaze broke out late on Tuesday inside the maternity unit at the Yarmouk Teaching Hospital in the west of the Iraqi capital.
fire broke out in #Baghdad's Yarmouk maternity hospital in the early hours of Wednesday. 11 babies are died#Iraqpic.twitter.com/4TqPKOl0mq

— Baxtiyari (@BaxtiyarGoran) August 10, 2016
Why did the fire start?
The cause is as yet unknown.
Iraq's health ministry says it was probably caused by an electrical fault.
Firefighters took three hours to extinguish the blaze, according to a health worker at the scene.
Did anyone survive?
Yes.
At least 11 other babies and 29 women were rescued from the maternity ward.
Health ministry officials say they have been transferred to another hospital.
Is Yarmouk a major hospital?
Yes.
It is the main hospital for that side of the Iraqi capital, with emergency care and teaching facilities among others.
Some think the incident is likely to intensify public accusations of state corruption and mismanagement.
Accusations of neglect
THIS IS YARMOUKHOSPITAL IN OCCUPIEDBAGHDADAFTERBEINGDEMOCRATISED BY THE US & IRANIANOCCUPATION !!
IN YOURFACEpic.twitter.com/V45X76T5pC

— العراق للإحصاء (@IraqSurveys) July 30, 2016
Pictures posted on social media are said to show the hospital in a state of neglect.
There are claims of:
- cockroach infestations – overflowing dustbins – dirty toilets – patients lying on stretchers outside
Thirteen years after the US-led invasion that toppled Saddam Hussein, the oil-rich country still suffers a shortage of electricity, water, schools and hospitals.
What they are saying
"My son's birth was difficult, I came with milk powder for him and then this happened. They shut the electricity and the doors," – parent Shaima Hussein
"I went to the other hospital, they are not there, so where are they?" – parent Hassan Omar has no information about his new-born twins.