Never mind Rio...Take a look at Tokyo, the 2020 Olympic host city!
Comments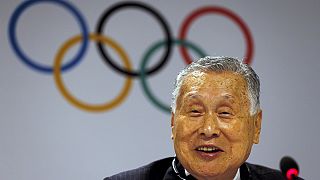 The Rio 2016 Olympics have only just begun but the drumbeat is already rolling for Tokyo 2020.
And at the 'Japan House' exhibition space, in the heart of Rio, sports fans can get a glimpse of what the country has to offer.
The #Tokyo2020JAPANHOUSE has opened today! Come & feel Japan's omotenashi if you're in Rio https://t.co/d7JIcIK0lNpic.twitter.com/iT70dYXMPl

— Tokyo 2020 (@Tokyo2020) 5 août 2016
Hi-tech Tokyo has already hosted the Summer Games before – back in 1964.
Tokyo 2020 spokesperson Hikariko Ono said that those games transformed Japan completely.
"So I would like to have the same positive effect for the upcoming Tokyo 2020, not only to Japan but also to the world as one of the innovative Games in the history of the Olympics."
Among the innovations on show in Rio is a future model of a hydrogen-powered car, developed by a Japanese manufacturer. It will be the official vehicle of the next Games, available for athletes.
And that is not all!
"We are going to start a Cultural Olympiad for Tokyo 2020 immediately after Rio 2016," Ono explained.
"And through those various game-related events, we would like to inspire the youth, not only the Japanese youth, but also the world youth."
In efforts to attract a younger audience next time round, five new sports – including baseball, skateboarding and surfing – will feature in the Tokyo 2020 Games.
ICYMI, #Tokyo2020 will feature Baseball/Softball, Karate, Skateboarding, Sport Climbing & Surfing! pic.twitter.com/YSqMeg8pnt

— Tokyo 2020 (@Tokyo2020) 4 août 2016
It hasn't all been plain sailing for Japan. Its 2020 project has been hampered by a series of setbacks, including a complete overhaul of the stadium design, abandoned in response to growing public anger over soaring costs.
The mishaps have tarnished Japan's reputation as a shrewd and efficient operator, a notoriety that helped Tokyo win hosting rights for the Games over Madrid and Istanbul in 2013.