In northern Iraq, thousands flee Mosul campaign
Comments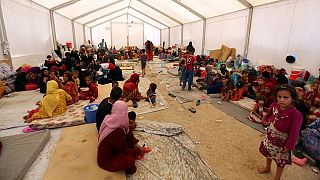 Dibaga camp, in Iraq's Kurdish north, was already bursting at the seams with 25,000 people, when 3,000 more came this past week alone.
Many are sleeping out in the open and living conditions are described as very difficult.
Thousands have been forced to leave their homes, as Iraqi army and allied forces push towards the ISIL stronghold of Mosul with the backing of US air strikes.
ISIL itself has released a video of its militants digging tunnels, apparently preparing for the siege.
The group calling itself Islamic State seized Mosul two years ago and close to 10,000 of its fighters are thought to be in the city.