One million Syrian child refugees going without education
Comments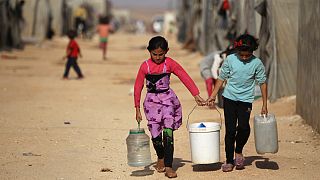 A children's charity claims hold-ups in funding mean nearly one million Syrian child refugees are going without education.
You should be investing less in razor wire on your borders and more on books and classrooms

Syrian child refugees report author
The charity 'Theirworld' says in a report they have only received about 350 million euros out of the 1.2 billion promised at a London donor conference in February.
Kevin Watkins, Executive Director of the think tank the Overseas Development Institute (ODI), who authored the report, says that while these children face many risks, the prospect of an education can save them from child labour, early marriage and even recruitment by extremists.
"I think any parent anywhere in the world would understand that people are going to move, and that's why again that we've said in this report, the very clear message to the European Union is you should be investing less in razor wire on your borders and more on books and classrooms in the neighbouring countries that are hosting these refugees," said Watkins.
Watkins added the chance of an education is a big factor in why many parents are choosing to risk the journey to the west.
The Theirworld report warns of a "lost generation" of Syrians if determined steps are not taken to ensure school access for all.
Syrian children were promised they would go to school this year. ~1M are still waiting. https://t.co/xjNiK5UP2h #SafeSchools RT please!

— Dynamo (@Dynamomagician) August 3, 2016
---
There are 2.5 million Syrian children registered as refugees with the UN, the international body says.
Most live in neighbouring Turkey, Lebanon, and Jordan as they wait for an opportunity to return home.
In Lebanon, more than half of the nearly 500,000 school-age Syrian refugee children receive no formal education, according to Human Rights Watch, despite innovations to teach double shifts at the overburdened public schools.
World leaders are failing #Syrian children. kwatkinsodi</a> &#39;s report for <a href="https://twitter.com/theirworld">theirworld on BuzzFeedUK</a>: <a href="https://t.co/fKa5VMTdak">https://t.co/fKa5VMTdak</a> via <a href="https://twitter.com/elashton">elashton

—

ODI

(@ODIdev) August 3, 2016