Russian opposition figure Navalny spared time behind bars
Comments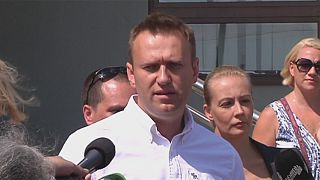 Prominent opposition figure Alexei Navalny has avoided time in prison after prosecutors claimed that he had violated the terms of a his suspended sentence.
The political activist, who rose to prominence in 2011 when he organised street protests against Vladimir Putin, was convicted of fraud in 2014 along with his brother Oleg who is currently serving a prison sentence behind bars.
Navalny has previously said that the case against him is politically motivated, but thanked the public after the Moscow court ruled that he had not breached the terms of his suspended three and a half year sentence.
"The Kremlin dreams of putting me in prison, but clearly the public opinion won't allow them to do so," he said.
"So, first of all, I would like to thank the public, the people who won't let the Kremlin achieve its aims."
At the time of conviction, prosecutors were demanding a 10-year prison term, although Navalny was eventually given a much lighter sentence.
His brother Oleg is currently behind bars for his role in the pair's fraud conviction.
They are said to have embezzled close to 30 million roubles (around 400,000 euros) from two large companies, including one that is affiliated with French cosmetics company Yves Rocher.