Five confirmed dead after Russian helicopter shot down in Syria
Comments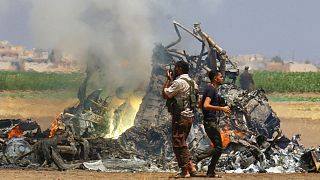 A Russian helicopter carrying five military personnel has been downed in Northern Syria after coming under hostile fire from the ground, killing everyone on board.
The Russian Ministry of Defence confirmed in a statement that two officers and three crew members died after the Mi-8 helicopter was shot down on Monday in Syria's Idlib province, close to Aleppo.
Russian Mi-8 helicopter on Aleppo aid mission shot down, killing all 5 onboard.https://t.co/cpUUiFJkln

— RT (@RT_com) 1 août 2016
Kremlin spokesman Dmitry Peskov told reporters that its occupants had died a "heroic death" on a humanitarian mission, and that the helicopter had purposefully tried to avoid inhabited areas to limit civilian deaths.
A #Russia Mi-8 AMTSh assault helicopter was shot down near Saraqeb in #Idlib today. 5 crew members thought killed. pic.twitter.com/KXDKnPnLGQ

— Charles Lister (@Charles_Lister) 1 août 2016
It remains unclear as to who is responsible for the incident, although as prominent supporters of President Assad's forces in Syria's raging civil war, Russia is not short of rebel enemies on the ground.
Idlib plays host to the al-Qaeda faction known as the Nusra Front, as well as other anti-regime forces.
Unconfirmed gruesome images of the helicopter's pilot being dragged from the wreckage by his ankles began to emerge shortly after it plummeted to the ground.
#BREAKING Image of what looks to be a dead #Russia|n pilot after helicopter shot down in #Syria. [Conflicts</a>] <a href="https://t.co/2PTAck5WTy">pic.twitter.com/2PTAck5WTy</a></p>&mdash; Raveen Aujmaya (raveenaujmaya) 1 août 2016
Russia says that the Mi-8 Helicopter had been on a humanitarian aid mission to the city of Aleppo – where the United Nations estimates some 300,000 people are trapped amid the bloodshed with dwindling food supplies and diminishing chances of escape.
The helicopter was reportedly returning to Russia's main air base in the western province of Latakia when it was shot from the sky.