Brazil: Helicopter pilot held after kidnapped Ecclestone mother-in-law is freed
Comments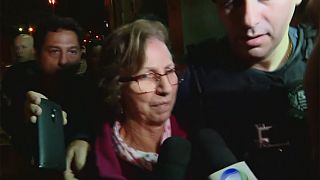 There have been emotional scenes as the mother-in-law of Formula One boss Bernie Ecclestone was reunited with loved ones, after being rescued by police from the Brazilian hideout where she had been held for over a week.
"I just ask for those criminals to be arrested so they do not kidnap anyone else in Sao Paulo," Aparecida Schunck, 67, told reporters.
Moment Bernie Ecclestone's mother-in-law is freed from kidnappers https://t.co/oaB9lM0Ckcpic.twitter.com/4Y1xERYjqs

— Evening Standard (@standardnews) 1 août 2016
Three men are said to be in custody after Mrs Schunck was found, unharmed, in a house in the Sao Paulo region, having been abducted from her own home in the city.
Her daughter, marketing executive Fabiana Flosi, 38, is the wife of Briton Bernie Ecclestone, 85, one of the most powerful and wealthiest figures in world sport.
Ecclestone divorced his wife of 25 years, Croatian model Slavica Radic, in order to marry the young Brazilian. The couple lives in England.
A ransom demand of more than 30 million euros for Mrs Schunck is said not to have been paid. She was reportedly traced after phone calls made by the kidnappers were monitored by police.
One of those detained has been named as helicopter pilot Jorge Eurico da Silva Faria, who has worked for Formula One in Brazil.
Bernie Ecclestone's pilot arrested as 'mastermind behind kidnap of boss' mother-in-law' https://t.co/rli7cOmIyopic.twitter.com/IH7t2qmoSu

— Daily Mirror (@DailyMirror) 1 août 2016
Kidnapping was common in Brazil a decade ago, with several people seized each day, often for sums of just a few hundred euros.
A crackdown by police, including the formation of a special anti-kidnap division, reduced the number considerably, and the crime has become much less common.
Brazil is currently in the midst of its worst economic crisis in almost a century.