Pope Francis condemns 'devastating wave of terrorism'
Comments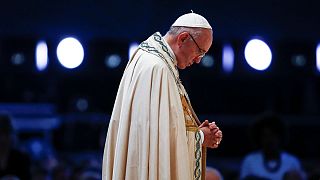 Pope Francis is set to hold a mass on Sunday, to round off his five-day visit to Poland.
On Saturday, he condemned what he describes as a "devastating wave of terrorism" and war that's hit the world.
The pontiff, who ends a five-day trip to Poland today, addressed a crowd of young people gathered at World Youth Day – an international Catholic, youth jamboree.
"We can not overcome hatred with more hatred, violence with more violence and terror with more terror," said Francis.
"Our only answer to this world at war has a name: it's called fraternity."
Francis said last week that the killing of an elderly priest in France and other attacks were proof that the world is at war – but that it was not caused by religion.
The Pope rounded off Saturday with a night vigil.
A personable Pope who is happy to pose for selfies at World Youth Day celebrations in Krakow, Poland. #WYD2016pic.twitter.com/kHWgxr7plM

— Maria Rodrigues (@WomaninLondon) 30 July 2016