Syrian state media reports civilians have begun to leave besieged Aleppo
Comments
By
Euronews
with
Reuters, Syrian Observatory for Human Rights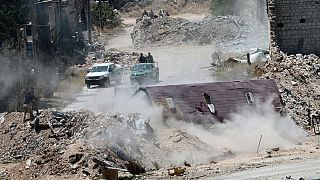 Syrian state media reports dozens of families have begun to leave the besieged north-western city of Aleppo.
According to Sana news agency, some rebel fighters have surrendered to government forces.
Syrian President Bashar al-Assad has offered an amnesty for any rebels surrendering within three months.
The purported developments came two days after Russia, an ally of Assad, announced four exit corridors were to be opened for both fighters and civilians.
The Syrian Observatory for Human Rights also reported "a number" of local residents had left the east of the city via a passage in the Salaheddin neighbourhood.
An estimated 300,000 people are trapped in the rebel-controlled eastern side of the city. The United Nations says food is forecast to run out by the middle of August.
Sana says those who have left have been taken to temporary shelters.
"We left with whichever of our children remained," said one woman. "May God punish the rebels. They did not allow us to leave, they deprived us of gas, water, electricity and bread. We were not allowed to leave. There were no medicines. They used to tell us you live with us or die with us. We were fleeing like rabbits. We were scared of them because if they noticed they would have killed us."
Another woman also expressed anger:
"We suffered a lot because of those dogs who have no shame. They were unjust to us and to our children. We left under the protection of the army."
The United Nations, United States and certain aid agencies have been guarded in their responses.
The UN has requested a 48-hour ceasefire in Syria's five-year civil war to allow people to leave safely. It also wants to manage the exit corridors.
Meanwhile, the US has suggested the plan is a strategy to force civilians to leave and rebels to surrender. Secretary of State John Kerry said if this proved to be the case, it could rupture US-Russian cooperation in the country.
The Syrian opposition claims the passageways are part of a government plan to recapture the whole of Aleppo.