Sixteen killed in Texas hot air balloon crash, says police
Comments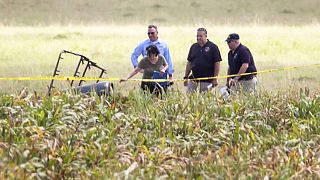 Police in Texas say 16 people have been killed after a hot air balloon caught fire and crashed.
It came down near Lockhart, around 50 kilometres south of Austin.
Eyewitnesses say it struck power lines and burst into flames, before plunging to the ground.
"To the families that may be watching us right now, we offer our thoughts and prayers to all of them for the loss," said Erik Grosof, from the National Transportation Safety Board.
"This will be a difficult site for us to work through. We are getting tremendous cooperation from local authorities."
The FBI is among the authorities called in to help investigate what is one of the deadliest balloon accidents on record.
Texas hot air balloon crash that killed all 16 passengers is the worst in American history https://t.co/NBxij4nf5Bpic.twitter.com/AEHLxl9swM

— New York Daily News (@NYDailyNews) 30 July 2016
Officials have not commented on what may have caused the crash, which happened on a clear day.
It is believed the balloon belongs to a tour group. Efforts are underway to determine the nationalities of all those onboard.
WXIA/11 Alive: Deadly hot air balloon crash in Texas raises safety questions https://t.co/CJdvyQ13fr

— Atlanta News (@AtlantaNewsFeed) 30 July 2016