Italy's Monte dei Paschi bank among poor performers in latest in EU stress test
Comments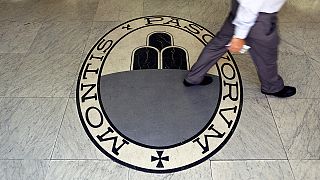 Banks from Italy, Ireland, Spain and Austria have come out worst in the latest European Union stress test.
The verdict: that there is still work to do to boost credit to the bloc's economy.
Italy's Monte dei Paschi – or MPS – is one of the poor performers in the European Banking Authority's test of 51 EU lenders.
"The seriousness of the situation of MPS was already clear. It is the most penalised bank, while one of the best banks is Intesa," said Guido Gennaccari, a financial analyst with Trading Room Roma.
"This was already clear in graphics at the beginning of the year. Stocks suffered with the bail-in, then with the Brexit, and now with the stress test."
Here are the 11 worst-performing banks in the European bank stress test: https://t.co/disj7NJAyppic.twitter.com/Kd54MK5tCe

— Bloomberg VisualData (@BBGVisualData) 29 July 2016
MPS confirmed less than an hour before the results that it had finalised a plan to sell off its portfolio of non-performing loans – and had assembled a consortium of banks to back a five billion euro capital increase.
The stress test looked at how banks could withstand a three-year, theoretical, economic shock.
It is the third of its kind in the EU since taxpayers had to bail out lenders during the financial crisis between 2007 and 2009.
Monte dei Paschi, RBS and Allied Irish sent to the back of the class in EU stress tests https://t.co/0TpiLGke3Tpic.twitter.com/er1XANBEki

— Financial Times (@FT) 29 July 2016