Dozens wounded in further night of clashes at besieged Yerevan police station
Comments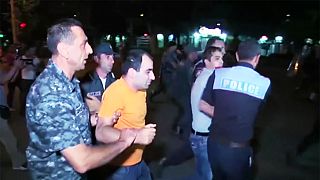 At least 60 people have been wounded and dozens arrested in another night of clashes between riot police and demonstrators in Yerevan, the health ministry reports.
The streets of Yerevan, Armenia right now: pic.twitter.com/U5ljPUm7xJ

— reported.ly (@reportedly) July 29, 2016
The protests centre around a standoff at a police station in the Armenian capital.
It was seized on July 17 by a group of around 30 armed men and has been in their hands since. They are demanding the resignation of President Serzh Sarksyan and the release of jailed opposition leader Jirair Sefilian.
One police officer was killed in the takeover, two were injured. Hostages were taken, but later released.
Two of the gunmen wounded during a shootout are being treated in hospital, according to officials. Doctors sent in to the police station to treat others have not reemerged. The group insists they were asked to stay and are they are not being held captive.